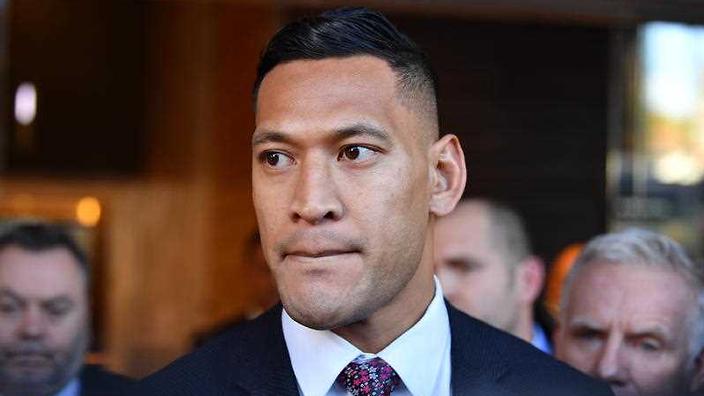 Why the Folau 'free speech' debate misses the point
OPINION
A lot has been said on the Israel Folau issue over the last few weeks. There is more 'commentary' that is sure to come in light of the government's plan to introduce new legislation strengthening protections for religious freedoms, so let's brace ourselves.
Despite so much commentary, one dimension to this 'debate' has been overlooked. Inherent in the perspectives of some religious groups, politicians and media commentators is that sexuality and gender identity is a choice. A choice like any other of what to study, how to spend your time or what to wear.
The notion that 'the gays' or trans people can 'redeem' themselves, or 'choose' an alternative path is a fallacy, built on a dated and pathologising ideology, and not on what the scientific evidence of human sexuality and gender tell us. In fact, much human misery has been created for LGBTIQ+ people who have tried trying to choose to ignore who they really are.
We need to move on from notions and beliefs that there is a "gay lifestyle" that people choose. As a society, if we are struggling to care and empathise, we can at least be scientific.
Essential and necessary variations and diversities exist within the human experience. They have always been there, in every culture and in every part of the world. They are often not visible, often repressed (with horrendous consequences), but always with us.
We deny this at our own peril. Do we choose, as a modern, democratic society, to ignore the complexities and nuances regarding human sexuality and gender or do we advance on a basis of evidence-informed understanding?
We need structures, systems and legislative frameworks that recognise and give visibility to the spectrum of human experience, not based on falsehoods that gay and trans people are 'choosing a lifestyle'.
LGBTIQ+ kids are born the way they are. They do not make an identity choice that would see themselves being vilified. Many go to bed each night feeling confused, isolated, and fearful of what the future holds.
Unlike other kids who may be feeling the pressure of not fitting in, these kids often can't share who they are, or how they feel, with their families, because their families do not share or understand their experiences. This is different to family groups who collectively experience discrimination and social marginalisation based on race, ethnicity, or religion.
This social and family isolation makes people incredibly vulnerable. It is exacerbated by public commentary and debate they are sinful, wrong, sick or perverted, largely on the basis of how they were born who they are.
But they are not 'sick' or 'perverted', and they should not be, as they have been in the past, criminalised or persecuted for who, at their very core, they are.
Australia continues to lose too many people to suicide whose sexuality and gender are perceived to be based on choice, "unnatural" or sick. Our mental health services are already stretched and over prescribed. If we continue to deny basic human experiences, and not advance with the evidence that we are fortunate to have in hand, then we will continue to perpetuate this sad situation.
As the world celebrates 50 years of Pride, and we see some countries within our own Asia Pacific neighborhood breaking away from the historical shackles of discrimination. We need to ask ourselves what kind of nation we want to be: one built on false assumptions and myth, or one that embraces evidence and knowledge, and then puts that to good use.
Nicolas Parkhill is CEO of ACON, Australia's largest LGBTIQ+ health organisation.