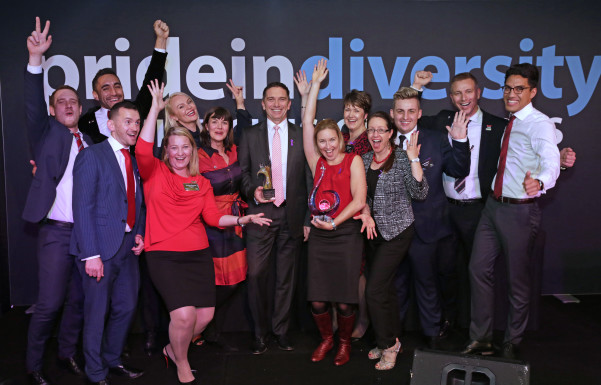 THURSDAY 30 JUNE, 2016 – STAR OBSERVER
SINCE joining the Westpac Group two years ago, Sam Turner has felt the most supported and comfortable she ever has with being herself at work.
Working as one of the brand's many regional general managers, Turner has also taken on the role of chairing Global – Westpac's LGBTI employee group.
The work that group and the company has achieved in the past year was recognised when Westpac Group took out the top gong at the 2016 Australian Workplace Equality Index (AWEI) Awards for LGBTI employee inclusion.
"The thing I always say, since joining Westpac almost two years ago, I have felt the most supported and most comfortable in terms of being myself," she said.
"That includes (telling) stories about a partner, if I had one at the time. The most important thing is not feeling like I have to cover any aspect of my life."
Global has been in existence for four years, and has gained visibility, engagement and participation from the workplace, Turner said.
The group has held a number of activities and programs in an attempt to foster LGBTI inclusion in the workplace.
"We run inclusive language training across the group," Turner said.
"This year we actually filmed it and it's available to our staff at any time via our intranet. It includes how we're involving all our colleagues."
There is also an inclusive leadership program, and social events like a Mardi Gras picnic.
"My experience as a role model but also as someone who identifies as L on the LGBTI spectrum, I've met more of our LGBTI staff in the past 12 months than ever, and I've seen a lot of our global members become more confident and happy," Turner said.
"We don't just pay lip service to it. It's not just a bunch of stats on a page, it's about how people genuinely feel. And my take on that is we've got more people across the group feeling comfortable in their own skin and feel like they can fully participate, whether that's sharing weekend stories or their partner's gender if that's what they want to do."
BT Financial Group chief executive Brad Cooper, who is Westpac's executive sponsor for LGBTI inclusion and was named Inclusion Champion of the Year, said their work was not about the recognition but about wanting a more diverse workplace.
"When we first started, we did a staff engagement survey and when we looked at the engagement level of LGBTI employees, it was four per cent below the rest," Cooper said.
"In two years, we've closed that gap and now we've got no difference."
Cooper said Group's initiatives drove people who were usually quite passive on the subject become more vocal when they saw behaviours that were unacceptable.
"88 per cent of employees feel comfortable with their sexual orientation in the workplace which was up nine per cent from two years previously," he said.
"A great testament of people being who they are."
ACON's Pride Inclusion Programs director Dawn Hough, applauded Westpac for their achievement.
"The Pride in Diversity Inclusion Awards, driven by the Australian Workplace Equality Index (AWEI) benchmarking process, reveal the significant work Australian organisations, including Westpac, are doing to create truly inclusive workplace cultures for their employees," she said.
"The AWEI covers areas of contribution in policy, data collection, visibility, training, suppliers and community. Evidence-based, and objective, to be recognised as the Employer of the Year is a significant achievement."
To find out more information about Pride in Diversity, visit its website here.
© Star Observer 2015 | For the latest in lesbian, gay, bisexual, trans* and intersex (LGBTI) news in Australia, be sure to visit starobserver.com.au daily. You can also read our latest magazines or Join us on our Facebook page and Twitter feed.