It is our great pleasure to present the results of the 2016 Australian Workplace Equality Index (AWEI). This annual publication allows Australian employers participating within the AWEI to not only benchmark themselves against their sector, tier, top employers and in some cases, industry but also provides a framework that can be utilised for strategy development and internal assessment.
To download a copy of the 2016 AWEI Publication, please click on the thumbnail below.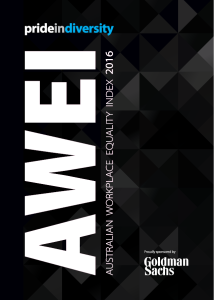 AWEI participation rates continue to increase year on year. This year we recorded the highest participation numbers to date with 85 employers submitting to the benchmarking tool; an increase this year by 46.6% (n85). First time submissions increased by 125% (n36) and survey responses increased by 48% to a staggering 13,393 responses. We were also particularly pleased to see a 40% increase in public sector participation and an 80% increase in Higher Education entries.
This year, to provide additional benchmarking data to public sector employees (in lieu of industry benchmarks), we have broken public sector down into Federal and State. While we do not yet have enough numbers to have a separate data set for Local Government. We are hoping to see a participation increase within Local Government over the next couple of years.
Participation in the AWEI is critical in order for us to gauge the national benchmark of LGBTI inclusive practice and we thank all those who participated in the 2016 AWEI; in particular those responsible for compiling submission documents.
Pride in Diversity would like to encourage all employers no matter how large or small to participate in the AWEI. Participation is free and may be anonymous. You do not need to be a Pride in Diversity member to participate. The benefits you reap as a result are significant. For more information on the AWEI and participation, please contact the Pride in Diversity office on (02) 9206 2139.