The results of the AWEI are not only assessed annually to determine the current benchmark and practice shifts in LGBTI workplace inclusion within Australia, but are also utilised to benchmark against leading practice internationally every three years, typically resulting in a new index, format and often, direction or focus.
For the 2019 publications, please click on the thumbnails below: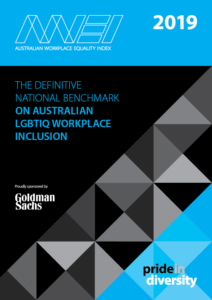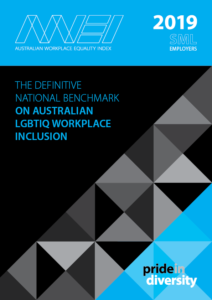 There have been some significant changes in not only what we are measuring within the AWEI, but also in how the index submission document has been built, how employers complete the index and how we present the data. We have received some really positive feedback on the changes and the speed with which we are now able to get your results back to you, and now we hope that our new format AWEI publication will also provide you with some additional valuable information.
The Survey forms part of the AWEI and it continues to be the largest survey of its kind and the only survey within Australia that annually gauges the lived experiences, insights and perceptions of employees across all sectors and industries working within organisations currently active (from just starting to well advanced) in LGBTI workplace inclusion.
The results of the Survey do not have their own publication this year and have been included in each AWEI publication, respectively for the standard AWEI and Small Employer.
For more information on the AWEI or publications, please call our office on 02 9206 2139 or email pride@acon.org.au