AWEI Employee Survey Data Analysis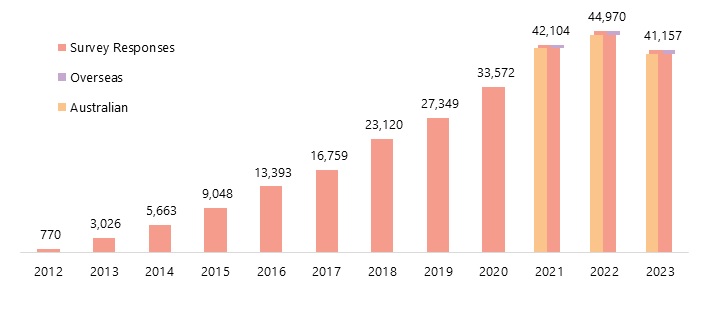 The annual Australian Workplace Equality Index Employee Survey has been running for the past 12 years as part of the suite of offerings from Pride in Diversity.
Pride in Diversity is Australia's first and only national not-for-profit employer support program for all aspects of LGBTQ+ workplace inclusion. Pride in Diversity are specialists in HR, organisational change and workplace diversity dedicated to improving the health and wellbeing of LGBTQ+ people by reducing exclusion, invisibility, homophobia, and stigma in the workplace. The AWEI Employee Survey provides insights into organisational culture, employees' beliefs, opinions, and knowledge about LGBTQ+ inclusion initiatives, and differences in experience between LGBTQ+ and non-LGBTQ+ respondents.
To utilise this data, Pride in Diversity annually publishes a series of data materials, videos and blogs under the heading of AWEI PRACTICE POINTS.
This helps to keep those within the Diversity & Inclusion profession informed and current in LGBTQ workplace inclusion. This data driven analysis and commentary would also be of immense value to network leaders, and those responsible for training within your organisation and executive.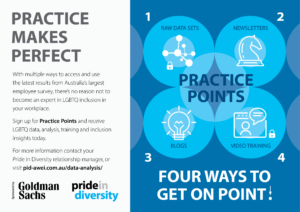 We provide four ways for you to get on point with this data:
Raw data sets – for Pride in Diversity members only!
Newsletters – sign up below!
Video Training – for Pride in Diversity members only!
 2023 Practice Point reports will be published here.
Previous years Practice points
Practice Points Mailing List
Sign up to the AWEI Practice Points Mailing List to receive up to date data on publications from the AWEI Employee Survey.
Click here to register for the Practice Points mailing list.
AWEI Mailing List
Keep up to date with all the latest notifications, including tips, reminders and press releases by joining our AWEI Mailing List.
Click here to register for the AWEI mailing list.
For more information on the AWEI and Australian LGBTQ Inclusion Awards event, please contact the Pride in Diversity office on (02) 9206 2139 or at AWEI@prideindiversity.com.au.