2016 Employee Survey Results
Pride in Diversity is pleased to present the analysis of the 2016 AWEI Employee Survey. This is the only survey of its kind and the largest annual survey conducted in Australia on the impact of LGBTI inclusion initiatives within Australian workplaces.
The survey was completed by 76 percent of the organisations participating in the full AWEI Benchmarking Instrument (n65). 13,258 validated responses were collected from across all sectors, just under 25% of which were from Lesbian, Gay, Bisexual, Transgender and Intersex employees (n3,160).
In reading the survey results, it is critical that the following be kept in mind:
All participating employees are working for organisations that are currently implementing / or have already implemented LGBTI inclusion initiatives;
There are a significant number of employees working for organisations that are highly ranked on the AWEI. For this reason, Top 20 Employers have been separated from non-Top 20 employers within some areas of analysis to provide a clear picture of higher visibility inclusion initiatives;
Due to the fact that these employers are active in LGBTI inclusion, we would expect the results of this survey to differ significantly to that of organisations not active in LGBTI inclusion.
To download a copy of the 2016 AWEI Employee Survey Analysis, please click the thumbnail below.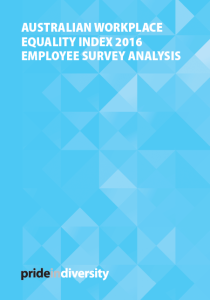 For information on the benchmarking data accompanying the employee survey, please see the 2016 AWEI Publication available online click here or contact the Pride in Diversity office on (02) 9206 2139.