2018 AWEI Submission Documents
The Australian Workplace Equality Index
While many Awards Nomination Processes boast a much quicker and less cumbersome submission process, the AWEI is extremely comprehensive and evidence based and therefore does take some time to complete. Employers are asked a series of very specific questions in relation to areas that directly impact inclusion or the perception thereof and are required to provide evidence for all responses. Evidence may entail a detailed description of a process or alternatively copies of supporting documentation to validate responses. This ensures that all employers are measured on not only the same criteria but allows employers the flexibility in their approach to meeting that criteria provided sufficient evidence is supplied.
As the Index is used for benchmarking purposes, its necessary rigour and submission process provides an accurate gauge as to the level of inclusivity currently being worked on within the submitting employer organisation. Already, since it's launch in 2010, the index has witnessed a significant shift in practice and as a result was re-aligned in 2014 to not only match the level of practice currently within Australia but to once again shift it to the next level. The AWEI was realigned once again in 2016.
---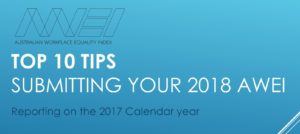 Click to view or right-click to download
2018 AWEI Submission Documents
Submissions for the 2018 AWEI have now closed. The results will be announced on 25 May, at our annual AWEI Awards Luncheon.
Information and document links for the 2019 AWEI Submission process will be added to this website shortly. Please join our AWEI mailing list for all the latest news and notifications.
---
2018 Individual Nomination Submissions
2018 CEO of the Year Nomination
2018 Executive Leadership Award Nomination
2018 External Media Campaign Award Nomination
2018 Network Leader of the Year Award Nomination
2018 OUT Role Model Award Nomination
2018 Sally Webster Ally Award Nomination
2018 Sapphire Inspire Award Nomination
---
2018 AWEI Employee Survey
The 2018 AWEI Employee Survey is now closed.
Links for the 2019 AWEI Employee Survey will be posted shortly.
---
AWEI Mailing List
Keep up to date with all the latest notifications, includes tips, reminders, press releases, reminders by joining our AWEI Mailing List.  Click here to register.
For more information on the 2018 AWEI and Australian LGBTI Inclusion Awards event, please contact the Pride in Diversity office on (02) 9206 2139.