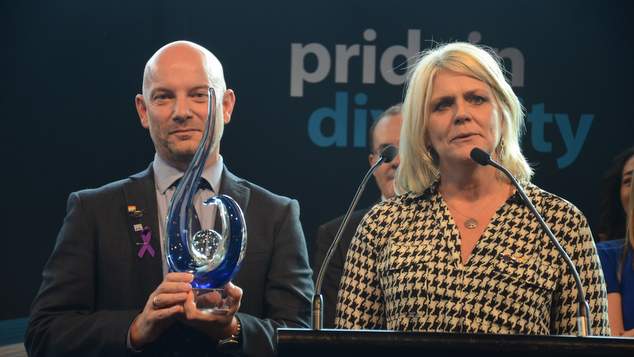 What did EY do, to be named the most inclusive employer in Australia?
OUT IN PERTH – 28 May, 2018
Professional services firm EY was named Australia's most inclusive employer at the Pride in Diversity Awards last week.
Lynn Kraus, Managing Partner for Advisory – and the executive sponsor for Unity, the organisation's LGBTIQ network, chatted to OUTinPerth about what the organisation has done to change their workplaces over the last few years.
"We are super excited and absolutely humbled," Kraus said of the organisation's achievement in the awards. "Its an amazing group of organisations every year when we go to the awards, and this year what they are all doing is really inspiring."
Kraus said the EY team were surprised to be named as the winner in 2018 but its a goal they'd been working towards for a long time.
"It's been five years of really hard work." Kraus said noting that back in 2013 the company landed in the 35th position nationally.  "To get from where we were five years ago to where we are today has been a lot of hard work, a lot of resilience and a lot of persistence."
Kraus said the organisation had invested a lot of time into making sure that EY was not only an attractive workplace for LGBTI employees but also ensuring that the entire workplace was inclusive of everybody.
"We've done a lot of awareness training and education, but also brought in some partners that have helped us focus on that journey." Kraus said citing a collaboration with mental health group Reach Out as a key ingredient in the company's change management process.
The process of bringing in change at EY has involved everything from having a great time marching in the Sydney Gay and Lesbian Mardi Gras, to holding awareness sessions for staff members, and sponsoring Sydney's gay rugby team The Convicts.
"It's not just for employees who identify as LGBTIQ." Kraus said, "There are also parents among our staff who have children who are coming out, and it's created a support network for them too."
EY have also been eager to share there experiences with other companies in their industry, encouraging their competitors and collaborates to also embrace diversity.
"There's not just one thing you can do that's going to make a different, its got to be everything and its got to be constant."
Kraus said she was particularly proud of the fact that EY had been one of the first large companies to voice support for marriage equality.
"That was tough because as an organisation we went out early on and said we were supportive, when maybe that's not where everyone was at. We had a lot of people challenge us, and question us." Kraus said.
"We did know that we could speak on behalf of our employees and say that they wanted an inclusive workplace, and that's what we try to create everyday."
The Australian LGBTI Inclusion Awards, are hosted by ACON's Pride in Diversity – the national not-for-profit employer support program for LGBTI workplace inclusion.
More than 700 business leaders, diversity champions, HR professionals and many more actively working on LGBTI inclusion came together at the Hyatt Regency in Sydney to celebrate the results of Australian Workplace Equality Index (AWEI); a rigorous, evidence-based benchmarking instrument that assesses workplaces in the work and impact of their LGBTI inclusion initiatives.